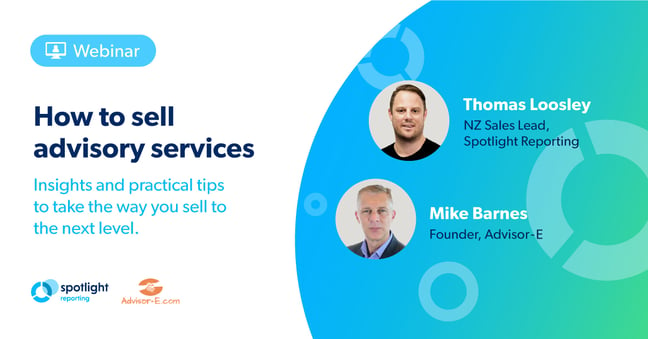 Mike Barnes, Founder of Advisor-E and Professional Development Consultant joins Thomas Loosley, NZ Sales Lead at Spotlight Reporting, to help you target 10 clients for advisory based engagements within the next 30 days. You'll be ready to take your advisory selling skills to the next level!
During this one-hour video, Mike and Thomas discuss:
Ready: how to ensure you can deliver what you promise to your advisory clients.
Set: how to position your offering in the mind of your clients to enable greater job acceptance.
Go:

3 frameworks (+ a phone script) that will let you build client desire, without giving away the 'gold' for free.
Don't leave fees on the table and clients potentially under-serviced. Watch this video to get practical, actionable tips.
About the speakers

Thomas Loosley, NZ Sales Lead, Spotlight Reporting
Thomas has been in the accounting and advisory software space for nearly eight years. He previously worked at Xero as a Senior Account Manager and has a deep understanding of accounting processes, the challenges firms face, and change management when firms decide to adopt new or upgrade their technology.



Mike Barnes, Founder, Advisor-E
Mike is a professional development consultant and helps accounting firms gain more top-tier clients. What makes Mike unique is his advanced understanding of personality types and his experience with soft-skills coaching. This allows him to work with accountants to develop tools to help their clients succeed.