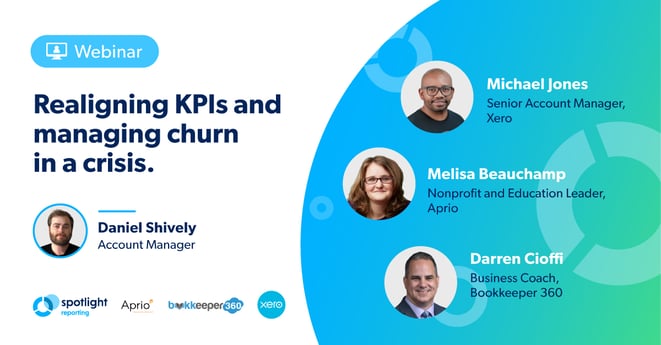 Relying on guesswork to protect your existing revenue and grow new revenue during an economic crisis is incredibly risky. Resetting and recalibrating KPIs for your Accounting Firm is an obvious step that all accounting firms need to take, but how do you go about doing it?

We invited experts from Xero, Aprio, and Bookkeeper 360 to discuss the metrics that are going to matter the most during the crisis. During this webinar we talk about:

Engagement KPIs such as client satisfaction and community engagement in difficult times.
Resetting revenue KPIs and growing the average revenue per customer (ARPC).
Managing the sudden impact of client churn or distress.
Team KPIs, revenue per employee, and human connections.
Ways to forge stronger relationships with your clients.

If you've been searching for answers on how to reset KPIs to help protect your existing revenue base and grow new revenue, then listen to this webinar recording.
About the speakers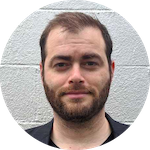 Daniel Shively, Account Manager at Spotlight Reporting
As a dynamic business professional, Daniel's core area of expertise is providing strategic advice and nurturing relationships with advisors. He provides tactical insight for a wide range of clients and thrives on leveraging his consultative style and connecting his audience with the right solutions for long-term success.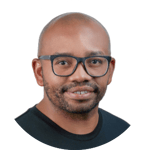 Michael Jones, Senior Account Manager, Xero
For over five years, Michael has worked with clients to help them maximize efficiencies in their businesses by creating accounting technology stacks built to last, built to scale. The solution that Xero offers, drives seamless efficiencies between CPA and client, client and their finances.


Melisa Beauchamp, Nonprofit and Education Leader, Aprio

Melisa specializes in tax exempt entities. She has served clients across the US in areas of tax compliance, financial reporting, auditing and tax-exempt consulting. She is known for her extensive expertise in private foundations, public charities and other charitable estate planning entities.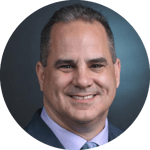 Darren Cioffi, Business coach, Bookkeeper 360
With over 30 years of experience, Darren has been working with companies in both the private and public sector, helping them to re-discover and articulate the company's vision, and how to not just set goals, but develop practical ways to achieve them.