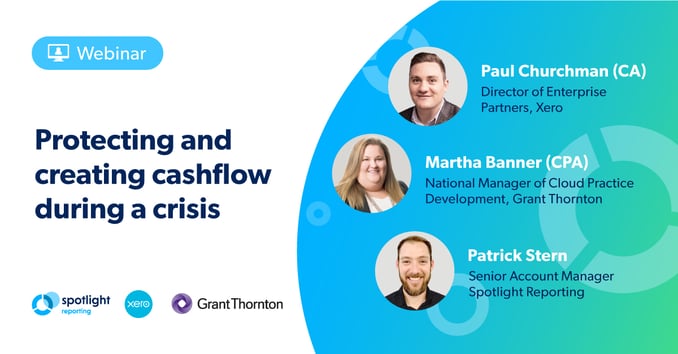 Cashflow is one of the most significant indicators of business survival right now. Accountants and business owners will need to brace themselves and focus on creating and protecting their cashflow position in order to ride out the crisis.

During this webinar we offer advice on how to stimulate and manage cashflow. Patrick Stern talks to our experts from Xero, and Grant Thornton for a discussion on:
Key steps to develop a cashflow strategy and the best way to optimize it (grants/funding).
Forecasts that contain scenarios, why they're crucial for business survival, and how to create one.
Contingency planning and crisis management for cashflow shortages.
About the speakers

Paul Churchman CA, Director of Enterprise Partners at Xero
Having worked with Xero in Public Practice as a Chartered Accountant for 8 years and now as an employee for 5 years, Paul has a huge passion for helping people and small business. By implementing Xero, Paul have seen process times cut in half for both accountants and the small businesses they advise.



Martha Banner CPA, National Manager of Cloud Practice Development at Grant Thornton
For the past two years, Martha has been helping lead Grant Thornton's clients in embracing cloud accounting technologies and currently leads this effort nationally across all of their offices in Canada. She brings depth of knowledge to our discussion, but also the vision that is helping address the needs of many businesses in our current environment.

Patrick Stern, Senior Account Manager at Spotlight Reporting
As a dynamic business professional, Patrick's core area of expertise is providing strategic advice and nurturing relationships with advisors. He provides tactical insight for a wide range of clients across many industries and thrives on leveraging his consultative style and connecting his audience with the right solutions for long-term success.