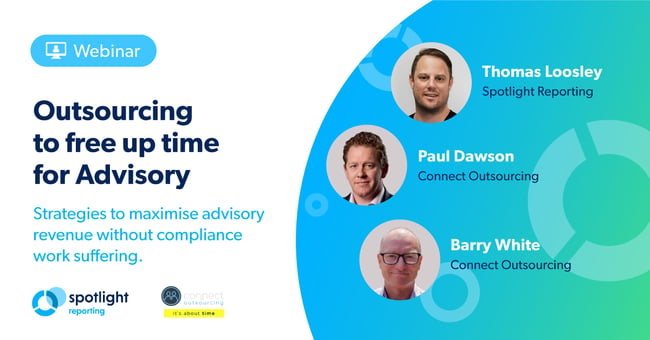 Maximising your advisory revenue is near and dear to us at Spotlight and we want to see more firms embrace advisory and provide high-value services for their clients. Watch this webinar to hear from Paul Dawson and Barry White, from Connect Outsourcing, as they take you through strategies to increase your advisory revenue and free up time using outsourced accounting services. During this recorded webinar, we discuss:
The pressures firms are facing, such as reducing margins and annual workflow bottlenecks, and how outsourcing administration and process-driven tasks lets your team focus on what's truly important.
Specific strategies to kick-start the outsourcing process at your firm.
The culture and atmosphere behind a successful firm (Paul's previous work-place!) who are outsourcing and delivering advisory to their clients.
What high-value advisory services you can implement into your firm.
Watch to get practical, actionable steps that you can start working with straight away.
About the speakers

Paul Dawson, Outsourcing and Process Manager, Connect Outsourcing
Business Advisor focussed on helping clients get the most from their resources with a key focus on smart strategy, good systems and processes, and a culture that supports your 'Why'.



Barry White, Outsourcing and Process Manager, Connect Outsourcing
With a work history as a CA, CPA, CFO and business owner, Barry loves meeting people passionate about their business and can often be found enjoying a craft beer with friends, clients & business owners in his spare time.