Join us for 12 days of Lockdown Learning
Accountants around the world have been working tirelessly around the clock to help their clients and we'd like to acknowledge those of you, who despite being physically and mentally exhausted, continue to get up every day, to do it all over again.

We know this is also difficult time for other team members who aren't in the thick of things and who are in isolation. You might be a graduate, in a junior role, in a non-client facing role, or your hours may have been reduced.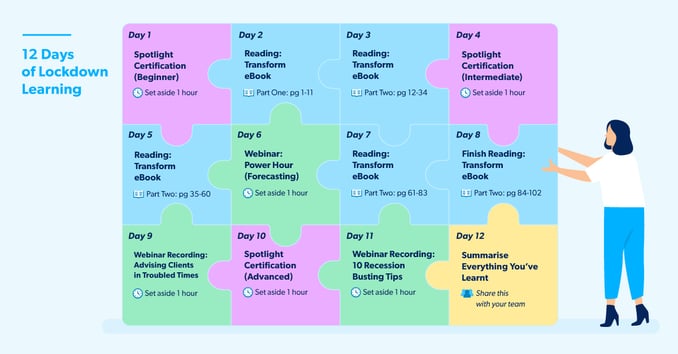 If your role has been impacted and you want to stay busy and engaged, then join us for Lockdown Learning. We've organised training over 12 days to help you feel focused, productive and motivated.
All you need to do is complete the tasks below, and you'll be Spotlight Certified, have finished reading our Transform eBook, and have some extra knowledge delivered from our webinars.
Bookmark this page to get started!
Day 1: Spotlight Certification, Beginner level (1 hour) 👨‍🎓
Day 2: Reading Transform eBook (pages 1 - 10) 📖
Day 3: Reading Transform eBook (pages 12 - 34) 📖
Day 4: Spotlight Certification, Intermediate level (1 hour) 👩‍🎓
Day 5: Reading Transform eBook (pages 35 - 60) 📖
Day 6: Sign up for a Spotlight Forecasting Power Hour 💪
Day 7: Reading Transform eBook (pages 61 - 83) 📖
Day 8: Finish reading Transform eBook (pages 84 - 102) 🎉
Day 9: Watch our webinar recording: Advising Clients In Troubled Times 😷
Day 10: Complete your Spotlight Certification, Advanced level (1 hour) 🎉
Day 11: Watch our webinar recording: 10 Recession-Busting Tips 💹
Day 12: Summarise everything you've learnt and share it with your team ✍️
Tell us how you're getting on
Follow us on Facebook, LinkedIn and Twitter and comment on our Lockdown learning posts. We'd love to know how you're going!