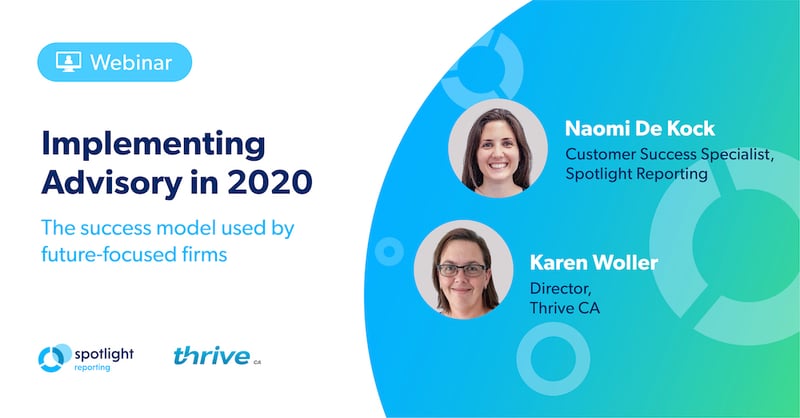 At Spotlight Reporting, we often get asked by our customers: "How are other firms implementing advisory?"
During this webinar, we teach you how to successfully implement future-focused advisory. Naomi De Kock, our Customer Success Specialist, talks to Karen Woller, Director of Thrive CA, and they discuss Karen's successful transition and her top tips for the following:
Key actions and steps to move from compliance to advisory (e.g.: deciding on a strategy, marketing, pricing and packaging, establishing an advisory team)

How to target and engage clients (a.k.a: the dreaded 'sell')

Putting together a success model and hard decisions you will need to make to pull it off.

About the speakers:

Karen Woller CA, Director, Thrive CA
During her 18 years in the accounting industry, Karen has seen how rapidly developing technologies can change things for the better. She thinks cloud accounting is the best because it gives her more time to make a difference to her clients' businesses. Karen has successfully implemented advisory services to clients and has a working success model that she'll share in the webinar.

Naomi De Kock Cook, Customer Success Specialist, Spotlight Reporting
Originally from South Africa, Naomi joined Spotlight Reporting's Customer Success Team in 2019. As someone who studied accounting and who's worked in the accounting industry for the last 10+ years, she jumped at the chance to support accounting firms on their advisory journey. She's all about helping others add value and seizing opportunities in the new accounting industry.