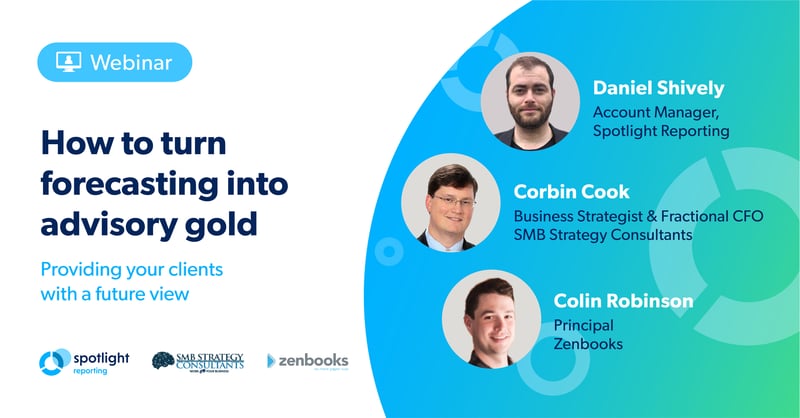 Cashflow is a trending topic in the accounting industry. Being cash-savvy is vital for businesses and as an advisor, you need the best tools to protect your clients' businesses from failing.
Watch our cashflow webinar to hear from our cashflow experts Daniel Shively, Corbin Cook and Colin Robinson.
On this webinar you'll learn:
How to get around the challenges of getting cash in and how to best advise your clients on issues.
The best strategies for managing your clients' cash.
Why forecasting for the future is critical and what you need to do if you want to step up.
Easy ways to create alternative cashflow scenarios.
Watch this video to get practical, actionable steps to maximize cashflow strategies in your firm.

About the speakers:
Daniel Shively, Account Manager, Spotlight Reporting
As a dynamic business professional, Daniel's core area of expertise is providing strategic advice and nurturing relationships with advisors. He provides tactical insight for a wide range of clients across many industries and thrives on leveraging his consultative style and connecting his audience with the right solutions for long-term success.
Corbin Cook, Business Strategist & Fractional CFO, SMB Strategy Consultants


Corbin believes that cashflow, profitability, and decision-making clarity are the foundations for business success. He works

with business owners to protect, grow and forecast cash-flow. His passion for helping people manifests itself in looking at the status quo and filling the gaps, while using Spotlight Reporting to do this.
Colin Robinson, Principal, Zenbooks
Colin enjoys working with owner-managed businesses and non-profit organizations who are keen to embrace new technology and the remote workplace. The Zenbooks team serves clients in a variety of industries and help them implement new systems and processes that reveal true insight into their finances.