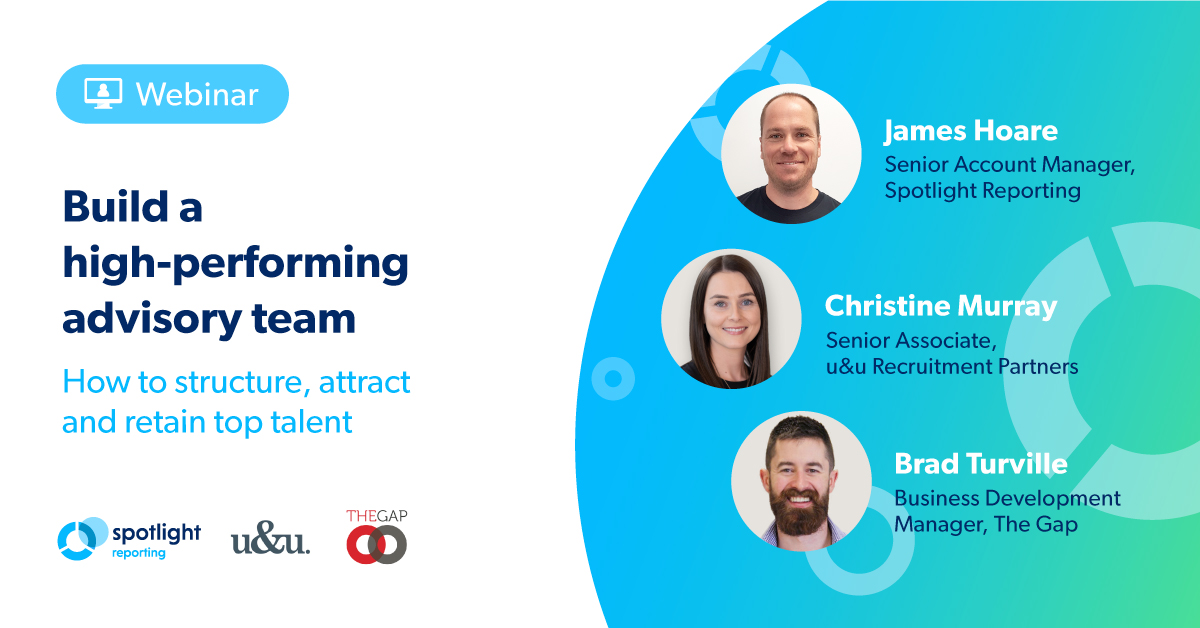 Listen to this recorded webinar to hear from Christine Murray (Accounting Recruiter) and Brad Turville (Business Development Manager). They explain how to develop a winning people plan and will also discuss:
The link between your team structure and high performance – what this looks like, allowing you to make a clear assessment to see if you've got it right.
People problems accounting firms are facing and actions to resolve issues.
What you need to be doing in 2020 to find, attract and retain top accounting talent.
About the speakers

James Hoare, Senior Account Manager, Spotlight Reporting
As a dynamic business professional, James' core area of expertise is providing strategic advice and nurturing partnerships/relationships with clients. He provides tactical insight for a wide range of clients across many industries and thrives on leveraging his consultative style and connecting his audience with the right solutions for long-term success.

Christine Murray, Senior Advisor, u&u Recruitment Partners
Christine specialises in recruitment for accounting firms and has four years experience under her belt. She has a strong network of both clients and candidates across business services, tax, external audit, and insolvency. Christine has worked with a range of clients, from Big 4 accounting firms through to sole practitioners recruiting their first staff member.

Brad Turville, Business Development Manager, The Gap
As a third-generation accountant, Brad loves showing accountants the untapped potential in their firm and within themselves. Brad created, built up, and sold his successful practice, BJT Financial Services. He's also a prolific blogger and content creator who specialises in coaching accountants to create capacity and pull their growth levers.