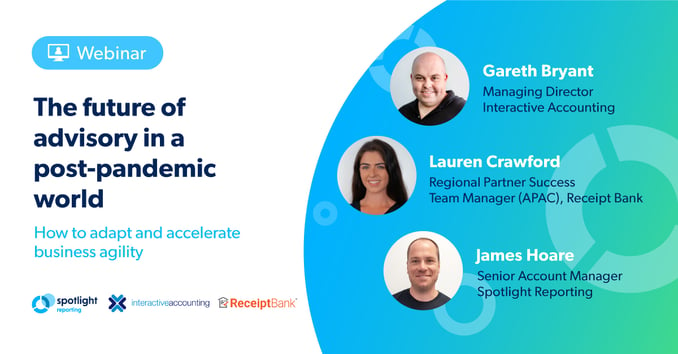 What does the future of advisory look like in a post-pandemic world? Many firms are still facing enormous challenges and have had to quickly adapt to survive. But how do you accelerate business agility when you don't know what lies ahead?
Join us as we discuss the future of advisory in tough economic times with our guests from Interactive Accounting and Receipt Bank. On this webinar, we discuss:
How to adapt to market changes and future-proof your firm.
The best ways to respond rapidly and flexibly to customer demands.
Issues with ad-hoc planning and why laying the groundwork for a new future strategy is vital.
How to lead change in a productive and cost-effective way, without compromising on quality.
The best tools to help your clients with business viability and recovery.
If your challenge is to adapt and accelerate through these tough economic times, then watch this recording.

About the speakers



Gareth Bryant, Managing Director at Interactive Accounting
Gareth joined Interactive Accounting in the early days after growing frustrated with the old school accounting mentality and is their Managing Director. Gareth is passionate about working closely with clients to help their businesses grow.



Lauren Crawford, Regional Partner Success Team Manager (APAC) at Receipt Bank
Lauren is responsible for managing all divisions of the Partner Success Team across Asia Pacific, which include Partner Onboarding, Customer Retention, Customer Support and implementing Receipt Bank in the top 100 Accounting firms across Asia Pacific.




James Hoare, Senior Account Manager at Spotlight Reporting
As a dynamic business professional, James's core area of expertise is providing strategic advice and nurturing relationships with advisors. He provides tactical insight for a wide range of clients across many industries.