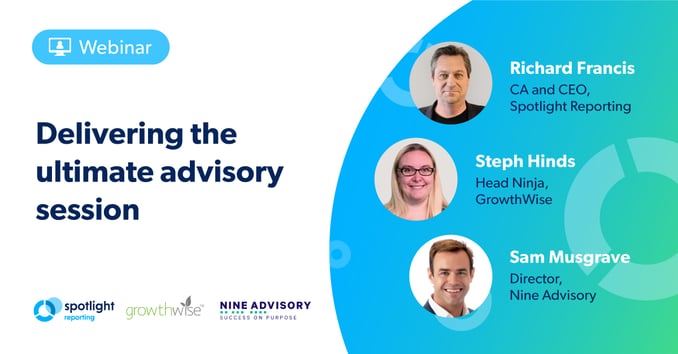 How would your clients rate your business advisory sessions? Are they jam-packed with value, or is it a struggle to keep your clients interested?
Listen to this webinar recording with Richard Francis (CA and CEO of Spotlight Reporting), Steph Hinds (Head Ninja at Growthwise), and Sam Musgrave (Director at Nine Advisory). They discuss:
How you can develop a winning formula for delivering advisory services and quickly show value.

The best ways to monetise your services and get your clients to buy from you.

Different ways to connect with your clients beyond the numbers.

Strategies to build recurring revenue.
About the speakers



Richard Francis, CA and CEO at Spotlight Reporting
CA, CEO of Spotlight Reporting, ex-GM of Workpapers for Xero and a Trusted Advisor with over 20 years of advisory experience. As the director of a 'boutique' professional practice in Wellington, Richard saw a need to improve analysis and forecasting for his clients. This led to the development of Spotlight Reporting.


Steph Hinds,Head Ninja at Growthwise
Growthwise is a leading firm delivering cloud advisory services in Australia. Steph thinks outside the box and is passionate about new technology and pushing the boundaries of what's possible. She loves solving problems as well as helping people and businesses to achieve success.


Sam Musgrave, Director at Nine Advisory
Guiding SME's through the Nine Pillar framework, Sam helps businesses and their owners improve performance, accelerate growth and achieve lifestyle success. He executes best practice across finance, business strategy, governance, and risk to help SME's get to their desired stage of the business lifecycle.