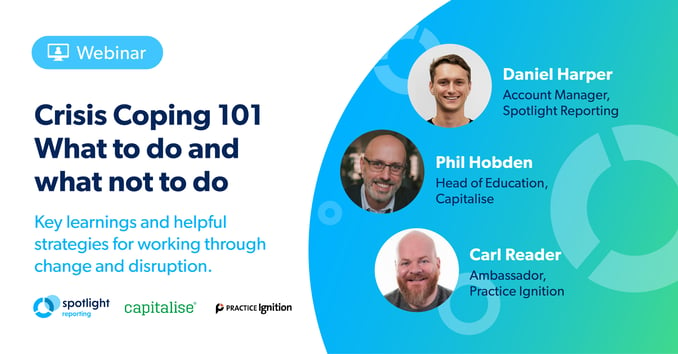 The onslaught of this pandemic has truly gripped the accounting industry. The way accountants are having to think, manage client relationships, shuffle team priorities, and make decisions under enormous pressure has shown just how much emotional and psychological stress accountants are really under.

This webinar recording will help you build resilience and avoid consequences like breakdown and burnout. Daniel Harper (Spotlight Reporting), Phil Hobden (Capitalise), and Carl Reader (Practice Ignition) teaches you what to do (and what not to do) in a crisis, and give advice on how to implement coping strategies.

Specifically, they discuss:
Ways to feel in control and regulate your attention while you're working from home.


How to show empathy while keeping people and clients at the heart of your strategy.

The proper way to go about Business Continuity Planning and tools to use.

Valuable actions to put Forecasting at the front and centre to help your clients

About the speakers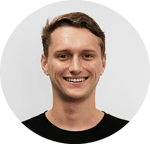 Daniel Harper, Account Manager, Spotlight Reporting
As a dynamic business professional, Daniel's core area of expertise is providing strategic advice and nurturing partnerships/relationships with clients. He provides tactical insight for a wide range of clients and thrives on leveraging his consultative style and connecting his audience with the right solutions for long-term success.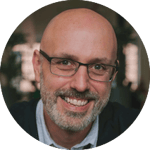 Phil Hobden, Head of Education at Capitalise
As Head of Education at Capitalise.com, Phil leads the vision to empower 10,000 accountants to help their SME clients get better access to finance. He has experience working across both the Accounting FinTech space & financial services at some of the UK's largest and most innovative companies.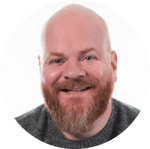 Carl Reader, Practice Ignition Ambassador
A champion for small businesses with over 18 years of experience in the accounting industry, Carl uses his extensive knowledge, connections within the industry and many years of experience to provide advice to small to large enterprises throughout the United Kingdom, Europe and North America.